I received a lot of email responses from my last travel story titled 'Home is where your heart is' and again I did respond to every one. Most of them ended with some sort of reference to crying. A job well done on my part then.

It was very emotional arriving in Jadrtovac after such a long, hard, roller coaster ride of an adventure. When I finally settled in and the shock of being there started to fade I noticed that this was not my family. Indeed they acted the part but they were poorly made clones of my wife and daughter.
I hadn't been gone so long as to not know the color of the woman who takes care of me and the daughter who physically torments me. These two aliens were brown and not the ivory white I vividly remembered back in Canada. Hmmmm? What's that big bright shiny ball of fire in the sky? Oh right it's the sun. Wow! Two months on the Adriatic and these two snow queens have turned into Tahitian beauties. I honestly haven't found a tan line between the two of them. What's been going on while I was at home?
I figured out the next morning what's been going on. With the exception of my father in law nobody wakes up before two in the afternoon. How long does one have to be on vacation for to give up on mornings completely? I doubt I'll ever know.
I have two choices. Get upset and wake everyone up or enjoy this gift and spend my mornings on the bike. That was an easy decision. The first day I went down and gave the bike a once over. I had rattled of a few odds and ends here and there so I needed to tighten up everything on the motorcycle. You really can't call it an adventure without a few scars.
I also took the 70lbs of luggage off. What a difference. My front tire touches the ground again when it's on the center stand.
I wash the bugs and dirt off and I find my cafe racer underneath all the grime.
I put together a small messenger bag with an abbreviated kit: tools, insurance papers, license, phone / camera / mp3 player, money, and most importantly an empty beer bottle. Everything you need to tour about in Croatia.
I rolled the motorbike down the hill and started it up so as not to wake anyone up. I didn't make it very far though. It's funny. My bike had an uncontrollable urge to stop at the corner store. I needed to get oil to do an oil change but the only fluids they sold at this store was water, pop, and beer. I grab a nice cold half liter of beer and when the lady tells me I can't have it I offer her my empty and she's happy again. I've been through this drill before. For the remainder of the summer you could always find an empty beer bottle in my pack.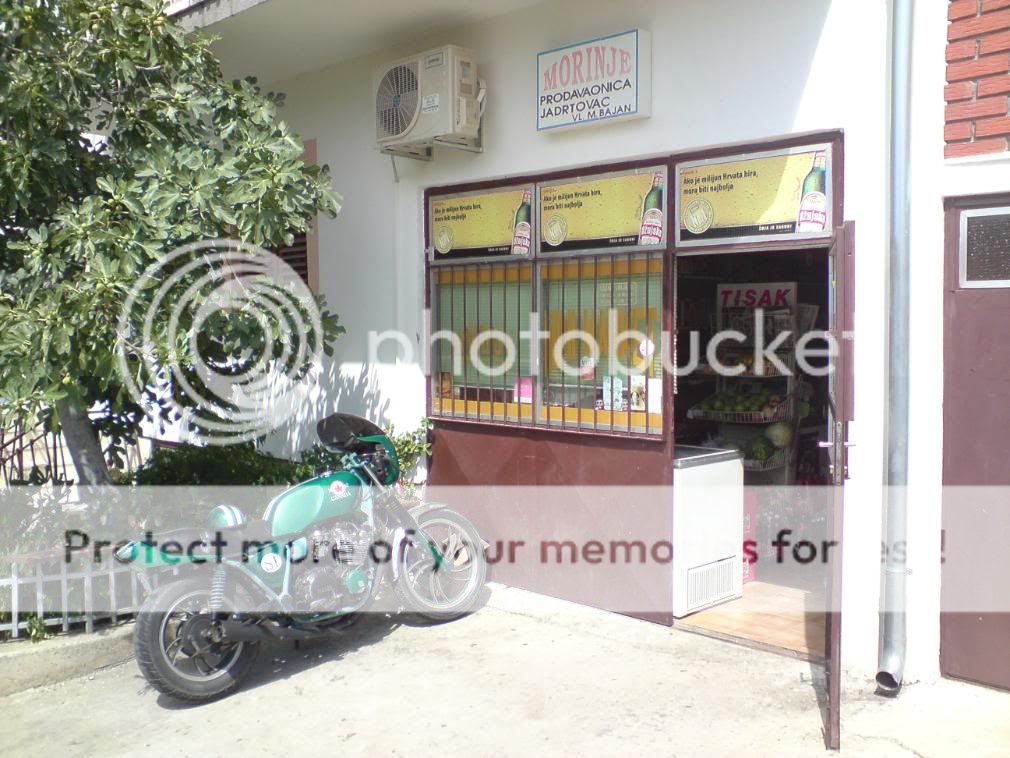 Now you're probably wondering what time it is. Well it's about 8 in the morning and yes I am going to drink this beer. Fortunately, I don't feel like an alcoholic because there is a group of men around the door of the store and they all have beers in their hands. How civilized!
I sit on the beach and drink my beer. It's nice at this time. The sun isn't out in full force yet and it's only about 20 degrees Celsius. Once the sun gets up a little more it hits the mid 30's very quickly. I get on my bike and I leave town. I ride my motorcycle around Sibenik to get a lay of the land. I was here last year but I didn't have a vehicle so I didn't see much of the town. With my trusty cafe racer it's easy to get around and even the traffic on the main drag is a breeze for me. What a different experience this is. This is the only way to travel.
I find a gas station and I pick up oil to do an oil change. I brought some replacement filters with me. I figured it would be hard to find parts here so I came well stocked.
I head down to the water for a little swim and make my way back to the house. I do my oil change and check my watch. It's 12:30 and nobody is awake still. I get back on my bike and head to the road that winds along the sea. I take a left and go as far as I can go in 45 minutes and turn around. I'm just on the outskirts of Split when I make my turn. That was a lot closer than I expected.
When I get back to Jadrtovac I see my family is up and they are on the balcony waiting for me. Their day is just beginning and I am already 400 kilometers into mine.
This is going to be a great summer! Time for a beer!